Local Rebel
Member Ascendant
since 12-21-1999
Posts 5742
Southern Abstentia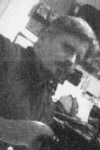 ---
Was watching an old episode of Star Trek -- 'The City on the Edge of Forever'.... in which McCoy is accidentally dosed with 'cordrazine', goes mad and jumps through a time portal and obliterates the future...

Kirk and Spock go back to undo what he did -- to the 1930's pre-WWII..

It occured to me that we're further removed now from the time that Star Trek was made than Star Trek was then from the pre-WWII 30's.

Fascinating.

So anyway -- Galactica is killer no?