Mysteria








Member Laureate
since 03-07-2001
Posts 19652
British Columbia, Canada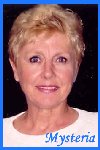 ---
Hi Everyone:

Thanks to Rebecca's Mom, Rae, I am posting a URL for a collection of 14 sets "Before & After" pictures of some Tsunami devastation. The most spectacular demonstration of the damage are in sets 12, 13, & 14. If you're on broadband, these will load very fast, and when the first picture is loaded, click on the "next" and "Previous" buttons on the top of the pictures.

http://homepage.mac.com/demark/tsunami/

Sure makes me darn glad to be alive and a lot easier to go outside and get some exercise today that's for sure! The magnitude of this is not over yet. Very sad.