Mysteria








Member Laureate
since 03-07-2001
Posts 19652
British Columbia, Canada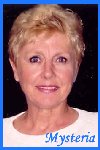 | | |
| --- | --- |
| 0 posted 10-09-2004 12:32 PM | |
---

I was wondering if Penguins had knees,
LOL, and came across this silly site, which is really cute for a laugh actually. Too much time on my hands today I guess.

http://www.corsinet.com/braincandy/stupid.html

Oh I found a book in the left column on the subject of penguin knees. Isn't this internet just about the greatest thing since peanut butter?

Speaking of which - what do you think was the greatest invention of the 20th century? This is a site that shows the greatest engineering achievements, amazing how many we actually use.
http://www.greatachievements.org/

I did NOT see eBay on that list anywhere, or Ultralash mascara, sheesh!



This came to mind when Florida was without power, (meaning not only no light but no air-conditioning) and all the other major inconveniences they suffered from loss of things that we take for granted every single day, like a hair dryer

heaven forbid! This led to research on underdeveloped countries, and I left feeling darn glad I was who I was, living where I was, and didn't seem to care about whether or not penguins had knees or not.