Local Rebel
Member Ascendant
since 12-21-1999
Posts 5742
Southern Abstentia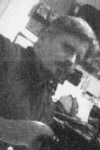 | | |
| --- | --- |
| 0 posted 07-11-2004 05:28 PM | |
---
Critics have called this movie egotistical and pointless. But to say this movie is pointless is to say that a roller coaster just goes around in a big circle. It may be a fact but it doesn't quite catch the reality that the ride is a lot of fun. Unlike the roller coaster though -- this flick takes about as many directions as it has stars. There's Jessica Lange, Ed Harris, Cheech Marin, Val Kilmer, Mickey Rourke, Stephen Bauer, Luke Wilson, Jeff Bridges, John Goodman, Penelope Cruz, and.. too many more to string together in a coherent constellation.

As soon as the viewer thinks he might know where the plot is going to tie everything together it unravels into a new metaphor and you begin to feel the movie's question 'Would you reach out your hand to a drowning man if you thought he might pull you in?' is exactly what's happened here.

In this place that isn't quite a place Bob (Jack Fate) is the ultimate protagonist caught up in a stream of civil war and violence he seems oblivious to. Jessica Lange asks 'In this day and age what does war mean?' and once again Bob has answered -- blowin in the wind.

It will take me several viewings of the DVD to try to begin to comprehend the layers and layers here, but the subtlety, music, acting, and imagery will make it an easy path to walk again and again. And in the end -- that may be the point. There is no point except the journey.

Uncle Sweethart -- the smarmy promoter played by John Goodman -- may have the best take as he tries to describe one of Dylan's songs. It's about trying to do good by manipulating the forces of evil.

Whatever it is... I liked it.