the_loner_23
Member Ascendant
since 06-08-2002
Posts 5670
Jacksonville, Florida, USA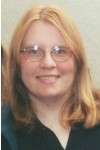 ---
I decided to start a new journal since most of my other one was mostly negetive stuff. Plus I have moved on with my life as you know. Now I like a guy named Micheal. Now just to find a way to get him to want to know me. That is a hard one. LOL

Now about Micheal. He has beautiful brown eyes. And when he smiles it is like the whole world lights up. He has dark brown hair. I think he is like 5'7" or 5'8". Not too much taller than me. He is of medium build. He he reminds me of a shorter version of the lead singer of Foo Fighters. I swear he looks like he could be related to Dave Grohl (sp.?). He is just plain cute.



I have gotten him to wave at me. I finally talked to him today but I acted like a doof. I was so embarrassed. I acted like a lovestruck fool. I felt so stupid when I got home. it was crazy. I just hope I do not act stupid around him again.



Anyways, I got a lot of stuff going on this week. Going down to St. Augustine Wednesday to spend time with some family and friends. Then my friend Kimberly is getting married this Saturday, July 3rd. She is only 18. I think that is a little young. But that is just me. LOL But hey if she is happy I am happy.



Anyways, That is all for now folks!!!!!

the_loner_23 signing out.
<!signature-->

Cold hands means a warm heart