serenity blaze
Member Empyrean
since 02-02-2000
Posts 28839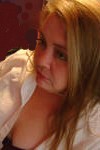 | | |
| --- | --- |
| 0 posted 01-31-2004 08:48 PM | |
---
(First a warm hug howdy to everybody--I'm doing fine--I simply had a drug reaction to a legal drug prescribed by my physician--my life is all about the irony, I tell ya

)

But anyhoo, I thought I'd share this simple little sonogram story with ya'll (with smiles and appropriate congrats to our resident imp, Chris)

When I was pregnant with my son, I was not given the option of discovery of the sex of the child, but I found out anyway, as the technician kinda accidentally "slipped."

When that magical moment occurred, and that fuzzy image of, uh, well...wow...what izzit? appeared on the screen. The father of the child (my current husband, who also happens to boast, shall we say, a "noble" romanesque-type nose)exclaimed excitedly:

"Look! It's got my nose!!!"

Whereupon the technician looked at my hubby, with one eyebrow raised, stating wryly, "Honey? That's not his nose!"

Smile. Methinks my son is immensely gifted in other ways as well.





giggle.

uh-oh.

(I'm so outta here. My daughter is prolly gonna see this and tell her brother on me too.)



gotta run!