Skyfyre
Senior Member
since 08-15-99
Posts 1966
Sitting in Michael's Lap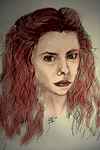 | | |
| --- | --- |
| 0 posted 08-30-2003 11:52 PM | |
---
What a long three years it has been; and how quickly they flew! Doesn't make sense. Doesn't have to.

Three years ago I left everything I knew to start over. I had nothing, I was no one. I braved every day at the mercy of moments and unreliable wits. It was a terror and thrill in the same breath, a stretching of horizons to sometimes painful limits until you catch the barest edge of that epiphany you always knew was there, but never realized you sought.

Rebirth is such a tired word. Let us say "a Recycling."



So there I was, oh She of Little Faith but Much Cynicism, peering down my nose at the shallows so far beneath me, capricious, untouchable in any real sense.

Jaded, guarded and no small bit weary, you harbored no expectations and dared no hopes. You came before me unadorned, pure and bittersweet in your misery; prepared for anything or nothing.

I think, at first, that I consumed you. *smiles*

Thankfully, you survived.

Today I am three years older and no wiser, yet somehow greater; the part of me I never knew I was missing is snugly and firmly in place, filling the spaces that held only shadow and memory, and perhaps, hope. That still, gentle spirit that surrendered so completely beyond all dictates of logic and reason remains, uncorrupted, couched tenderly in the deepest reaches of my scarcely-believing heart. Your lips still kiss my fingers in your sleep, and murmur, "I love you."

I dare not breathe, lest I wake.

Happy birthday, Michael, my love.


Truly,

Linda