Allysa



Member Elite
since 11-09-1999
Posts 2307
In an upside-down garden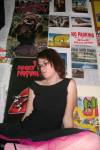 ---
Muwhahahahahahahahahaha!

In 6 to 12 months I'll be behind the wheel!!!

And to think, someone like me passed the test the first time! I was so worried that I was going to fail and everyone was going to laugh at me, but now I've got this little card in my pocket that says "now the american government sees you old enough and wise enough to operate an automobile" (not word for word, lol, and I still have to have a guardian of some sort with me) and all I can do is laugh!

hahahahahahaha!


<!signature-->

"Tourists are terrorists with cameras. Terrorists are tourists with guns."~Anon.

[This message has been edited by Allysa (04-03-2003 02:02 PM).]