Mistletoe Angel




Member Empyrean
since 12-17-2000
Posts 34089
City of Roses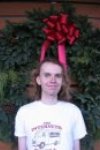 | | |
| --- | --- |
| 0 posted 02-14-2003 01:58 PM | |
---



(sigh) Some of you have been curious about the Candy Heart Poems series and what inspired me to start writing them! Let me explain it to you!





It started in 2001, when I saw so many people angry and upset with their sweethearts because they didn't get them good enough gifts for the day. That deeply upset me, as that is not how Valentines Day first evolved, around parsimony and avarice behavior.

The holiday was born in the 5th Century A.D when the pagan tradition known as the Luperican festival was popular in Rome and it was a time of sensual pleasure and their blessing to the Lord to meet and have a mate. Then Pope Gelasius outlawed the festival, called forth a new similar festival more mature and suitable, and Saint Valentine was asked to replace Lupercus. And he helped so many young women marry against the decisions of emperor Claudius and he ordered him beheaded, and before he died, he gave a "valentine" to the jailors daughter which he loved, or love note. And so indeed the celebration had some dim twists, but to be chivalrous and to love through song and poetry and get to choose who you want to love and to be loved in return is the whole magic of the holiday, not chocolates, roses, or lingerie.





Knowing that, I wanted to make valentines for my teachers at school, who were my only friends at the time. They understand how I feel ever so much so when my hero Mr. Ernewein, my sophomore English teacher, got me to start writing poetry, I decided to use my linguistic skills to show the REAL passion of Valentines Day! But then, I faced a dilemma. How could I best display the meaning of love through poetry to the unwashed masses?

Then I noticed when I got home from school when my beautiful little sister Ellie had come home from school and had Candy Hearts out saying how cute some of the messages were, it hit me. I can use the expressions as the gist of each poem and its title! So I started writing them, made them in card forms, and gave them to my teachers, and they even keep them still! Yay!





So, as you can see, there is also a political purpose behind writing these poems, to show everyone how you can simply express love to your love without spending so much money. Roses can wither, chocolates are gone after you enjoy them for once, and Hallmark cards are lovely but you have to make sure you write in your own handwriting too, whereas poetry is all YOU.

Moreover, some of my Candy Heart Poems express love, but in peaceful worldly terms, as in we should love and not fight. On some of the poems you may have noticed a lot of tie-dyed and rainbow art. I guess I have some of that hippy-spirit in me, LOL! Anyway, recent months have deeply saddened me and with some hearts actually promoting peace messages I took the stand on that ground too!

Happy Valentines Day everyone, yay!




Love,
Noah Eaton















<!signature-->

"Underneath your clothes there's an endless story..."

Shakira

[This message has been edited by Mistletoe Angel (02-14-2003 02:00 PM).]