Anvrill
Senior Member
since 06-21-2002
Posts 718
in the interzone now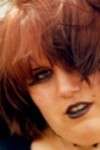 | | |
| --- | --- |
| 0 posted 08-11-2002 10:21 AM | |
---
I like making music. Nah, scratch that. Making music is like a religion to me.

I've wanted to have a band since ... I don't even know. I've always performed in public, from a church play when I was 7 through to a severely cheered karaoke rendition of Bat Out of Hell in front of half the U of C campus.

(My smallest audience has been 50; my biggest was about 500. And the karaoke was the only stint I've done that wasn't part of a big show.)

So... If you were in a band, what would you do? Frontgrrl/frontman? Guitars? Bass? Piano? Percussion? Programming? Producing? Wha'? And what kind of band would you be, and what songs would you cover?

I know the name of my band already. Metalheads and Goth Angels. My best friend's fault; she came up with it, and I loved it a bit too much.

I'd be the frontgrrl, writing songs, singing 'em, playing the piano. Manda (said best friend) would do backing vocals, and she really wants to play drums, so I'd humour her. Tyler would provide ANGSTY, broken backing vocals and all guitar needs (and will some day tutor Mikhail on how to play a bass). And of course, Mike would sing any duet parts, and solo songs too, and he'll know bass by then, so it's all good.



It's an interesting set-up. Because I write songs, Tyler writes songs, and Mike writes songs. I've got an overly passionate, half-operatic voice. Tyler's got this broken down slurred-word thing going on but he just booms. And Mikhail has this tremulous, hesitantly sensual and overpowering voice that just knocks y' right off your feet. Manda (who would do backing vocals) has such a perky, young, babyish voice (her nickname's Baby Punk, and I've been dubbed Mommy Goth).

I need to find someone who plays violins... Then I'm set!

I'd want every album to have something written by everyone who can write, with a solo from all of us, but I'm a bit of a primadonna, so I'd want most of the song-space fr me.

(Tyler's planning a solo career anyway; he can't complain!)

I'd want one cover per album... And off the top of my head, these are what I'd like to cover:




Ricochet Days - Modern English

Believe Me - Moist

Buttefly - Tapping the Vein

One Tin Soldier - (uh, who did this originally??)

Suicide is Painless - (eep... again?)

Rebel Girl - Bikini Kill

Wuthering Heights - Kate Bush (It's SUCH a challenge to sing! Fun!)

All Lovers Lost - Faith & the Muse



Yeh, basically those things that get permanently stuck in my head or have just been part of me since forever. (No wonder I'm a cynic; growing up with One Tin Soldier and Suicide is Painless!)

Anyway, I'm sooooo going on.....



So whatcha gonna do in yr own band?<!signature-->

impress me, or be discarded

mpc