Anvrill
Senior Member
since 06-21-2002
Posts 718
in the interzone now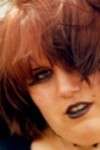 | | |
| --- | --- |
| 0 posted 07-31-2002 10:11 AM | |
---
I spend most of my life dreaming. Quite honestly. I don't exist within my own mind; I exist within pictures and images that float right outside of it. Some of them, I can grab and bring back with me when I phase back into reality, and if they're really concrete, they're characters and dialogues and eventually novels. If they're still hazy, then they're poems.

I can never control where my mind goes. So if the daydream is disturbing, it's not 'cause I'm disturbed. And if it's wondrously happy, it's not because I'm happy.

I've been a moody little brat recently for a few million reasons, and the weather has just taken a turn for the worse again. We just can't have summer in this city.

But my day dreams have been practically euphoric... And I'm just in a place where I wanna share, so I will share, whether or not anyone cares. And I'll stop rhyming now. I think.



I've been dreaming my wedding. Cool, huh? I've been thinking about what I would do when I get married since I was 14 (before there was a viable candidate), when a friend told me that she'd watched a wedding show on TV that featured a couple getting married on Halloween, and she said that if I ever got married, it would have to be on Halloween, and I'd have to let her decorate.

Well, that's a nice idea, but it's a little bit overdone, don't'cha think? Even in my 'category', I'm not one to follow trends.

I see it happening during the winter. (At this, Mike, who hates the cold, will run away screamin.

) There's something so much more romantic about a snowscape than a forcibly eerie night.

Instead of flashy, spring-y bouquets, we would have dried flowers and branches, and everything would be in autumn colours.

You'll be able to tell who the groom is 'cause he's probably the tallest one there. As you will be able to tell who the bride is (NOT wearin' a white gown! It would be a grievous lie!) 'cause she's probably the gothest on there.

The dress will have floor-length sleeves, opening at the forearm. The skirt of the dress will trail at least three feet behind. Princess cut! Black and burgundy. With a full-length velvet cape, might I add. For warmth.

I already promised Mike that he would have to get used to the idea of a top hat and a proper Victorian suit. Black, of course, with a burgundy vest t' match the dress. Maybe I'll even go so far as to force him to find one of those flip-open pocket watches with a chain. 'Cause I'm just that evil and obsessed with flashes of images that I get in my head.

To be incongruous enough to really be my wedding, the music would not match the decor or dress-scheme at all. We're talking Modern English's Melt With You. ("Mesh and lace." *melt* *swoon* *thump*) Mission UK's Severina. Depeche Mode's Somebody. (Hell, Depeche Mode's entire discography.) The Cure's Lovesong. (Eh, followup with the same thing as Depeche.

) Sisters of Mercy's More. (Augh, fine, their entire discography too.) Meat Loaf's For Crying Out Loud. (And tons more written by Steinman!) All the softer Metallica songs featured on S&M. Because Metallica with symphonic soft songs is just yummy. Especially Nothing Else Matters; so beautiful, I almost always cry. For a twist, Nine Inch Nails' And All That Could Have Been. Bif Naked's Lucky. Things like that. If any of those actually had anything in common. Well... About half were '80s.

Oh, and the rings would just be very simple; three band of metal twined in a Celtic pattern. Mine silver, his gold. Our vows may be borrowing from Stein-quotes, but that's depending on how intense we wanna go.

And even though this is dreaming, it also will happen. I am a very feisty li'l grrl, and I always eventually get my way.

Anyway. Babble done. Hope no one fell asleep.



<!signature-->

The loneliest words you'll ever know:
if only, if only it were so.

JS