Skyfyre
Senior Member
since 08-15-99
Posts 1966
Sitting in Michael's Lap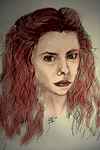 | | |
| --- | --- |
| 0 posted 08-28-2000 06:36 PM | |
---
I would like to take this opportunity to thank those who are gracious enough to reply to the few pieces of poetry I've managed to post lately, and to apologize for my rather conspicuous absence from the forums of late, especially from replying.

Do I have excuses? Of course!



1) We (Michael and I) haven't managed to get our own phone line yet, and our roommate (who also happens to be my mom -- shudder) doesn't seem to see the merit of spending hours at a time online! Go figure!



2) We haven't had a great deal of time lately for anything except work and other non-work things that nonetheless seem like work when you're doing them (i.e. registering for school, auto maintenance, and several little "projects" that I swear my mom must have been saving up for me over the months!)

3) We've become addicted to an RPG which shall remain nameless -- LOL -- anyone know a 12-step-program for computer games...?

We both thank you for your patience and your queries of concern ... and we hope to be seeing more of you soon!

Smooches all,

--Kess

PS: Christopher, before you even say it, allow me to extend you a big raspberry and a deep-fried southern "kiss my grits" in advance! Ha!




<!signature-->

YOUR LIFE IS A TEST

It is only a test ...

If this were your Actual Life, you would have been given better instructions!