Skyfyre
Senior Member
since 08-15-99
Posts 1966
Sitting in Michael's Lap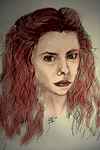 | | |
| --- | --- |
| 0 posted 03-02-2001 10:25 AM | |
---
Morning folks.



It occurred to me as I was browsing through a classical music site today (one that allows you to listen to excerpts from the piece) that I recognized a good deal more of the music than I thought should be possible. At least 15 or 20 times I clicked on the name that was not familiar and heard a tune that was...

I've taken a few music classes in college, but nothing more than the bare minimum required ... so where did I hear all of these masterpieces? Funny as it sounds, I think most of it has been on TV -- specifically, cartoons. For example, I don't think there's one of us who hasn't seen that Bugs Bunny episode featuring a toga-wearing Elmer Fudd singing the time honored tune "Kill the wabbit, kill the wabbit, kill the WABBit, kill the wabbIT ...." (which happens to be set to Wagner's Ride of the Valkyries -- one of my favorites!)

A few other favorites for television exploitation are Beethoven's 5th, Mozart's Eine Kleine Nachtmusik, and Schubert's Unfinished (some of us might remember it as the 'Smurfs' theme -- LOL).

Has this ever happened to you? If so, where, and which piece of music? If you don't know the name, DO A SEARCH and find out! You might be surprised by how much you didn't know you knew!




Linda