poddarku
Senior Member
since 01-15-2008
Posts 589
india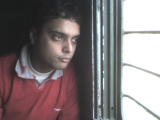 ---

To Margherita, birthday poem
----------------------------
I brought a birthday bird.
Though birthday means
changing one cage for another;
I brought the bird to be freed
forever.
And God was meant to bless her
for this act of kindeness.
"So where is it?" she asked me.
I opened my heart.
She could hear the batting wings.
=© 2009 - All Rights Reserved Kushal Poddar
<!signature-->

clever talks delay friendship!