Little_Spyro
Senior Member
since 01-09-2000
Posts 665
San Diego, CA, USA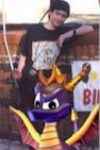 | | |
| --- | --- |
| 0 posted 01-29-2000 09:02 PM | |
---
One day, late in the afternoon
A climber was nearing the peak
Of a mountain in gloom--
Nearly fell to his doom
And a helping hand he did seek.

Five minutes later, a dragon was running
Under the climber's mount;
While he was running
He saw something stunning
And heard the climber shout.

The poor man was hanging by a thread!
"Hold on, I'm coming!" the dragon yelled
A feeling of dread
As he raised his head
Filled him as the climber fell...

The heroic dragon took to the sky
And sought to rescue the man--
To him he did fly
And caught the poor guy
In his large but not clumsy hands.

In landing, many thanks were cried
By the climber, the dragon just smiled.
"You're welcome," the dragon replied
Spread his wings, and took tothe sky,
Grinning to himself all the while.

Touché, Gene, I can't come up with a better poem than yours, but I can try...

This was inspired by your picture, if you haven't guessed already!






[This message has been edited by Little_Spyro (edited 01-29-2000).]