Sally S.
Senior Member
since 06-07-99
Posts 887
Ohio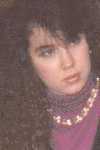 | | |
| --- | --- |
| 0 posted 12-24-1999 02:49 PM | |
---
A babe was born to us this day,
Born to set our spirit free.
Three wisemen traveled distant far,
This moment for them to see.
'Twas guided by a brilliant star
Throughout the night to find their way.

Jesus. Yes, the wee bairn's name.
Told His heart was pure as gold
To bring peace unto this land
The angels doth foretold.
In time He held out just a hand
To heal the sick and lame.

For much more than miracles true
The reason His Father sent
His son to Earth for us to see.
To Him our sin's we must repent.
His life He gave for me,
His blood He shed for you.

His love has lasted centuries
And continues on through time.
A promise long ago made
Short after resurrecting climb...
A return for those who've believed and prayed,
An end to "nay saying" mysteries.

A babe was born to us this day,
Born to set your spirit free.
A celebration of selfless love...
A man who gave His life for me.
A kindness I'm in awe of.
His wondrous gift I'll not betray.