Seymour Tabin
Member Empyrean
since 07-07-99
Posts 32119
Tamarac Fla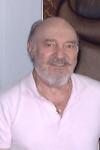 | | |
| --- | --- |
| 0 posted 12-21-1999 10:27 PM | |
---

A silly poem of nothing

God I'm slow, so slow of wit,
I seem to sit and sit and sit.
I cannot think of what to write
I've sit here close to half the night.

Now only the dark prevails,
There is no star to guide my sail.
The wind blows and I don't know
In which direction I should go.

I think I'll lay me down to sleep.
Perhaps in dream a start will seep.
And then I'll up and write it down
And wipe away this nonsense clown.

It's the start of things that's hard for me,
That big blank canvas that I see.
But sometimes just a words impart
Will make the pen to flow in start.

So let me think what word above.
Perhaps, perhaps I'll start with love.