Balladeer
Administrator
Member Empyrean
since 06-05-99
Posts 26302
Ft. Lauderdale, Fl USA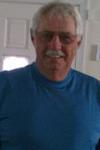 | | |
| --- | --- |
| 0 posted 12-17-1999 08:42 PM | |
---

I walked around in Tombstone Cemetery late last year
Taking a gawk at all the stones of people buried there.
There were Joneses, Adamses, Johnsons, too, far as the eye could see
And then I spied one tombstone with the single letter "T".

"That's odd", I thought. Perhaps the rest of that name had been lost
Or, maybe, it is not a "T" but symbol of the cross.
That must be it! I smiled, but just before I turned to go
My eyes fell on another tombstone with the letter "O".

The next tombstone beside it had the single letter "E",
And, by this time, I was obsessed with curiosity!
Then "R", then "A", then "G" appeared. Now mystified was I.
I grabbed the arm of Gravedigger Bill as he was passing by.

"Hey, Bill", I said. "I see six graves - one letter on the stones.
Don't seem a right, respectful way to treat those poor folks' bones."
"No that ain't it", he said."Those bones belong to one man in the same,
Some foolish drifter passing through, uh, Toerag was his name."

"That silly fool rode into town - this really is absurd-
And challenged our dear Balladeer into a war of words.
He'd heard back home, across the sea, that Balladeer was best
And so he journeyed over here to put him to the test."

"They met at noon on Main Street with their pens and paper drawn,
For three long hours they fired their quips until the duel was done.
My sons and I dug all night long. I mean, we worked like slaves.
Balladeer cut him up so bad we had to use six graves!!"