RSEvans
Senior Member
since 10-23-1999
Posts 1187
Tulsa, OK, USA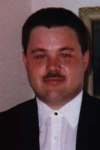 | | |
| --- | --- |
| 0 posted 12-17-1999 01:19 PM | |
---
Where do the days go, lost in the hue?
They used to pass so slow, now seldom do.
Where is the child that I used to know?
It's been a while since I felt that soul.
A message from heaven, graced with that smile
That carries a memory and simply beguiles
My baby boy, tanned and blonde
A favorite joy, my rages calmed.
He's growing up so fast, strong and tall
We've marked the days passed, upon the wall
Measuring his height and feeling each pain
Filling our lives with each passing day.
Perhaps I see the child I once was
In the face of my child, covered in dust
Beneath the skin, the smile the stare
Under the mass of childish cares
Lies a beautiful soul, rugged and strong
Without a foe, no right, no wrong.
How I envy his life, so free from care
He helps me in strife, and takes me there
That place in my mind, where my own child is
Where life is still kind, and everyone lives.