Kevin


Senior Member
since 11-02-1999
Posts 752
Torrington, Ct, Usa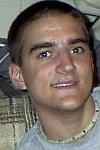 ---
Two stars shined bright in velvet sky
A brilliant common glow.
So perfect they, if not for I,
who watched them down below.

For they were meant to be as one
And I stood all alone.
Searching for a perfect sun
that I'd have for my own.

Alas two stars shine bright above
on one lone soul tonight
They together deep in love,
And me, no star in site.

Left here to gaze upon the two
my eyes, with envy filled.
'neath stars so bright, but not with you
another dream life killed.