Kevin


Senior Member
since 11-02-1999
Posts 752
Torrington, Ct, Usa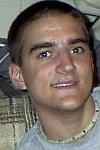 | | |
| --- | --- |
| 0 posted 12-14-1999 11:12 PM | |
---
Would you think that IM delirious
If I were to say to you,
that the myths of one mysterious
Mr. clause were all too true.
If you say yes indeed I be,
than that is all very well,
but have a seat and listen see
for i have a story to tell.
One winter night like any other
that fell on the twenty fifth.
Me and my little brother
were awake in our beds stiff.
not one wink of sleep could we
buy ourselves that Christmas eve.
for surely Santa clause would be
hiding something up his sleeve.
and seeing that sleep we would not find,
but knowing that it mattered not.
we snuck to see who left behind,
these presents that we always got.
Hours passed without a trace,
of world renowned ol saint nick
could he even find the place?
or was it some ol' rotten trick.
with heavy heads we both turned in
each with a rather distraught face
thatís when I saw it all begin
as nick fell in the fire place
what are you doing up my boy!
said he with a soot blackened grin
"had hopes of getting a new toy"
said I, "before I go turn in"
I heard a cough from o'er my shoulder
and knew that it was with a meaning
for there my brother, much less boulder,
on my leg was slowly leaning.
ME ME ME! he shouted smiling
then quickly hid himself to see
all the while, Santa piling
new wrapped presents neath the tree.
"tell you what" he said still chuckling
"off to bed, and yours these be"
and us, with our knees almost buckling
nodded, as upstairs we'd flee.
"did you see that," my brother asked me.
"yep" I said as reindeer flew.
Then little bro whispered with glee.
I believe in Santa, how about you.