Seymour Tabin
Member Empyrean
since 07-07-99
Posts 32119
Tamarac Fla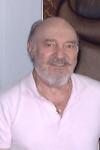 | | |
| --- | --- |
| 0 posted 12-11-1999 10:12 AM | |
---
A coincidence of man and crow

Not the bane, nor the maim,
Nor the curse of the lame,
Stayed the ghostly residue,
Its claim on these two.

The shame of the hide,
The fetid phantom stride,
The coup of the lame,
Were the curse and the blame.

Then a day and a sight,
Lay a light to this plight,
Put a crack in the door,
By the cry of a caw.

A gale of caws, a din,
From a maw of chagrin,
Sounded an ode, on wings of black,
As down it rode, Miriahs back.

It stood one leg, just one alone,
The other a piece of stark white bone.
And I shrank in awe,
Of this odd abhor.

Strident caws fell from its beak,
Like a sound from hell each shriek.
And madness leaped from within my soul
And I screamed right back in mad console.

And so we cried and shrieked one will,
And we did not stop until,
He swooped to ground, one pace,
Leered my leg and into my face.

We stared each other a bit insane,
But the seeing of each did ease the pain.
And then I laughed in a soft simpatico.
And wondered how this could happen to a crow.

It was an incident of man and crow
And this is all of the story I know.