Sally S.
Senior Member
since 06-07-99
Posts 887
Ohio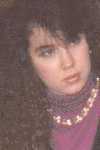 | | |
| --- | --- |
| 0 posted 12-07-1999 01:12 AM | |
---
This was written as a song, so you'll have to keep that in mind as the meter is not fully intact as a poem might be.




Christmas Wish

Santa won't you bring this wish for me?
Promise I won't ask for two.
I've decorated my Christmas tree
And now I'm counting on you...

Anticipated all this year
That my wish would be heard.
Told all my friends, "I'm sure he'll hear!"
They say that I am absurd...

Well, why's it hard for them to see?
I want my wish to come true.
And if you missed what my wish could be...
It's to spend Christmas with you.



I wanna ride in the great big sleigh of red
As we journey to each house.
See all the children dreaming in their beds...
(I'll be as quiet as a mouse!!)
shhhhhh!!!!

I wanna see all the joy you bring
To all the girls and the boys.
I wanna hear all the laughter ring
As they open up the toys.

Just the feeling that your kindness deems
To all of those who'll believe,
That the joy of Christmas really means
The gifts you give, not receive.

Say Santa, can't you grant this wish for me?
It's the only one that'll do.
Got milk and cookies by the Christmas tree
And now I'm counting...Santa on you.