Skyfyre
Senior Member
since 08-15-99
Posts 1966
Sitting in Michael's Lap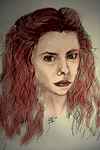 | | |
| --- | --- |
| 0 posted 12-04-1999 03:52 AM | |
---
From Heaven's fold, an angel made descent,
Untouched by the seductive hand of Sin,
To walk the path of Man was his intent,
The secrets of a human soul to win.

Seraph no more, his wings forever furled --
Angelic form, like raiment, cast away --
Unclosing mortal eyes unto the world,
He lifted human arms to greet the day.

For many years, he trod the humble road,
And struggled with his strange humanity;
With joy and sorrow equally bestowed,
He teetered on the edge of sanity.

Corrupted dream, his sentence lingered on,
Upon the bitter earth condemned to roam.
In prayers, he pleaded for the blessed dawn
When welcome Thanatos would bear him home.

On Solstice eve, beneath a moonless sky,
Unsteady steps betrayed by failing sight,
His only peace in knowing Death is nigh,
A wizened elder stumbled through the night.

The forest loomed -- a beast in search of prey --
Uncaring for his life, he knew no fear,
But carried on upon his weary way,
And hoped that sweet surcease would find him here.

A shadow followed, summoned by his pain,
The stroke was swift; and he was loathe to flee.
And, smiling as his life began to wane,
He greeted death with grateful ecstasy ...

The journey into Dark was far from kind;
His spirit tossed upon a violent storm --
And when he woke, 'twas only then to find
That still, in death, he wears a human form!

By Heaven spurned, and in despair, he ran;
As one to whom no hope for peace remains.
His strength surpassed the might of any man;
Unholy hunger raged within his veins.

The shadows part before unnatural sight
And there, the irony of Fate disclosed --
No more would he find solace in the Light --
His respite lay where Dark reigns unopposed.

A house of flesh that wears a demon's name,
Dark Hunter, formed to feed pernicious lust:
His ashes shall defy the mortal flame,
And ne'er shall dust returneth unto dust.

For now is realized his deepest fear:
Eternity in flesh he must endure.
And thus was born the one we call Vampyr --
An angel bearing death forevermore.



------------------
You cannot choose the way of your death, but the path you choose will determine its own end.