A Romantic Heart
Member Ascendant
since 09-03-99
Posts 5497
Forever In Your Heart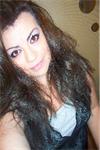 ---

Beginning I am loved,
middle I am deceived,
End I am confused,

Where am I?
Torn...apart,
Hole inside my heart,

Is it possible to repair a crack in our China?
Is it Possible to love you the same as before?

Should I stay?
Should I go?

Was love betrayed?
Will it ever grow?

I cannot pretend,
Our love has changed,

Time for my life to be rearranged...
My love has come to an end...

I am happy,
I am free,
I love me for me!