Tara Simms
Senior Member
since 08-12-99
Posts 1285
Honea Path, SC USA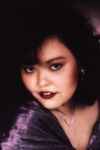 | | |
| --- | --- |
| 0 posted 11-20-1999 09:48 AM | |
---

Nostalgia

How I miss those days
when I was the only one who could fill your needs.
Those months that I carried you,
safe in my womb,
my body nourishing yours.
The happiest times of my life:
back when you were all mine
and I didnít have to share you with the world.
I carried you like a secret,
I would hug you to me,
a knowing smile on my face.
I was blessed with you
as others looked on with jealous eyes.
How could they possibly know the joy I felt in my heart?
Your first movements
were mine to decipher.
An elbow? A knee?
Hands spanning my belly,
trying to feel the source
of my elation.
I cherished those moments,
knowing they would end all too soon.
When you were born,
I thought our private times were over.
But when you smile at me
and snuggle up to me,
I know the bond we forged back then
grows ever stronger.