Blondie
Member
since 08-06-99
Posts 307
Ohio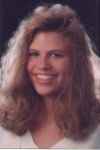 ---
There is this person of whom holds me up,
Whom holds me up when I'm deep in the ground.
Her arms are like steel keeping a strong hold on me,
A stronghold on me to help keep me safe and bound.

Her eyes are like piercing flames, keeping a watchful eye,
A watchful eye for me, so that I won't fall astray.
Her legs are always moving to find a new place of safety,
A new place of safety so that she'll lead me the right way.

Her smile is something that can brighten a dead candle,
A dead candle, when brightened, can turn night into day light.
Her laugh causes others to join in on the merry time,
The merry time is what turns frowns into smiles so bright.

Her mouth speaks words of which keeps me going,
They keep me going in my day to day struggles in life.
Her emotion is what drives her to care for others like me,
For others like me are happy on the outside but sometimes filled with strife.

Her fingers seem to play a soft tune of sweet melody,
A sweet melody will stay in your heart forever and ever, you see.
She is whom keeps me going, always there to comfort me,
She'll never leave, for when we die we'll have a place in eternity.