Seymour Tabin
Member Empyrean
since 07-07-99
Posts 32119
Tamarac Fla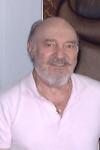 | | |
| --- | --- |
| 0 posted 11-13-1999 06:45 PM | |
---
The Battle

The battle begins at dawn,
Where indolence negates the morn.
Where sleep and dream would delay,
The slightest ray of coming of day.

Down the sill it slithers in,
Across the bed, it snakes within.
A dragon breathing fires light.
Burning up the dark of night.

And torment, the final crime,
Negation of the waking time.
Brings anomalies to bed,
To shake awake the playing dead.

It's a battle of succumb
The dumb sun and a mind of numb.
It's a war cannot be won,
For who can stop the coming sun?

But war is war, a human plight,
And this sleeper non to bright.