ThUnDeRkYsS
Senior Member
since 09-23-1999
Posts 739
Wisconsin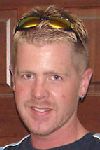 | | |
| --- | --- |
| 0 posted 11-11-1999 07:22 PM | |
---
Some things in life are meant to be
no matter how they burn
these memories of love are free
to study and to learn

People come into our lives
and then too often go
to us it seems, this big surprize
leaves in its spot a hole

What did I learn? it's you or me
I'll see it come next time
no matter how you beg and plea
we will all lose sometime

Lessons learned, to make us strong
so maybe once again
weak spots now seen, but not for long
hardships, our hidden friend

There's someone better...looking for you...
who's ready to give it all
the way you did the first time through
but this one will not fall

The wait is long and hard sometimes
exhausting and frustrating
but worth it all, when it arives
the best is still awaiting

So head up high, heart strong and true
much love you have to give
some lucky guy is searching too...
thinking... "I wonder who she is??"

We ALL need to just hang in there!!


------------------
Life is what you make of it... Not what you let it be


[This message has been edited by ThUnDeRkYsS (edited 11-11-1999).]