Allysa



Member Elite
since 11-09-1999
Posts 2310
In an upside-down garden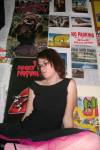 | | |
| --- | --- |
| 0 posted 01-21-2000 04:08 PM | |
---
Unwanted Memories

A downpour of memories,
flood within your mind,
and make shadows,
and storms,
and tears fall,
but still you stay silent.

Sharp spears silent,
yet full of memories,
and soon they fall,
out of your mind,
and into someone else they storm,
and make themselves shadows.

One day we'll all be shadows,
and be quite silent,
untill they once again storm,
dreadful memories,
they haunt your mind,
untill finally you fall.

You lways will fall,
and become treaturuss shadows,
in an empty mind.
Everything is silent,
as you wait for more memories,
and sometimes for a storm.

Unforgotton storms,
you wait for them to fall,
to become but memories,
or dark shadows,
but once again they are silent,
in your crowded mind.

Your mind,
a pathway for storms,
with an urge, they remain silent,
waiting impatiently to fall,
to make more shadows,
and unforgetful memories.

No more memories,
no more shadows,
nothing left to fall.