Sally S.
Senior Member
since 06-07-99
Posts 887
Ohio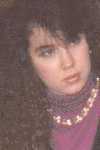 | | |
| --- | --- |
| 0 posted 11-08-1999 12:35 AM | |
---

I know my love for you, at last
Within my heart forever true.
In dreams you've always come to me,
Like calming winds of mem'ries past.
Love softly finds it's way to you
To capture what is meant to be.

Remain in truth of what will be,
Embrace this strength and make it last.
As life engulfs its time with you,
Surrender to this love so true.
Unspoken passion from the past,
Reveal your feelings now of me.

Evoke these dreams you've brought to me.
Yesterday? It can not be!
Over throw thoughts of the past,
Undying love is ours at last!
For hearts tell tales of wishes true,
Oh love, my soul belongs with you.

Reach for those stars I'd give to you,
Ask naught of what you give to me.
Loosened heartstrings, yes it's true.
Look to the future, what will be.
Envisage time, for it will last,
Tormented lovers now in past.

Erelong, there will not be this past.
Regard now what I say to you…
Negate false thoughts that this won't last.
Intrigue the night, come follow me
To a place where we will be
Yielding never more, love true.

Melodic forces forming true,
You cast aside fears of the past,
Of silent question, "What will be?"
Now strong, I stand here right with you,
Enraptured by your stance with me.
Love formed two souls as one at last.

Ordained it's true, both me and you…
Victors of our past. Now with me,
Each day will be, one more to last.