Seymour Tabin
Member Empyrean
since 07-07-99
Posts 32119
Tamarac Fla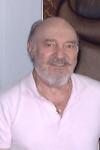 | | |
| --- | --- |
| 0 posted 11-06-1999 02:46 PM | |
---
A bridge

I built a boat like an arc,
To cross my chasm of doubt.
To see me safely through the dark
To make a journey safely out.

The boat is gone, it did not hold
And now I know not what to do
The chasm was to rough to cold.
I cannot build the boat anew.

Perhaps I'll climb a mountain top,
Up above where the eagles soar.
But that would be a lonely stop
For I am from the valleys floor.

To date I feel, I take up space,
I guess I'll have to blunder on?
Until at least, I find some Grace.
Or Grace finds me before I'm gone?

It's true I stand a fragile floor,
But with my friends that I adore.