devina
Member Elite
since 10-28-1999
Posts 3189
Northern Cali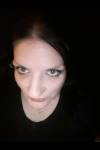 | | |
| --- | --- |
| 0 posted 11-03-1999 11:28 AM | |
---
i knew you were meant to have me,
i just knew it from the start-
seeing your beautiful eyes,
staring right through me,
sent an unforgotten tingle-
through my body, straight to my heart.

we're both in the same situation,
both loving someone else- without reason.
both wanting to finally feel this special,
wanting to be one half instead of the whole.

yet i can't remember when my body's felt this way,
you make me feel so damn special,
in every unforgetable word you say.

you understand me so completely-
yet we're perfect strangers,
you couldn't possibly know me.
yet you don't judge me for my faults,
not i yours.

we're both so good at listening,
that it matters not what's wrong,

the sad part is that i've wasted three years,
trying to change someone that meant alot,
just because he wasn't what i was looking for- yearning for,
he just couldn't be you.

i can't tell what you're thinking,
i'm hoping i mean as much.
yet tomorrow's another day,
so i'll have to wait and see-
noting that today was our first time-
the strangest feeling on halloween.