devina
Member Elite
since 10-28-1999
Posts 3189
Northern Cali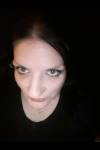 | | |
| --- | --- |
| 0 posted 10-29-1999 12:15 AM | |
---
HER HAIR BY NIGHT IS FIRERY RED,
BY DAYLIGHT SHE'S PURE-INNOCENT-MISLEAD.
HER THOUGHTS SEEM TO WONDER,
WEAVING IN AND OUT
LIKE MAJESTIC BUTTERFLIES SPUTTERING ABOUT.

HER COURAGE UNDYING,
YET SHE'S NOT SOLELY WHOLE-
SHE LONGS FOR HER SOULMATE,
WHOSE APPEARNCE IS UNTOLD.

SHE KNOWS DEEP INSIDE, THEY'LL BE TOGETHER AGAIN-
TO LOVE AND HOLD AS SISTERS, THE WAY THEY DID BACK THEN.

THE WAY THEY USED TO LAUGH-
CAN IT BE THAT WAY ONCE MORE?
SHE'S SUFFERING FROM A LONLINESS,
BUR DOESN'T KNOW WHAT FOR.

SHE'S NOT ALONE IN THIS WORLD-
TRULY NOT BY FAR,
YET WITHOUT HER OTHER HALF-
THESE MONTHS JUST SEEM SO HARD.

NO MATTER HOW DESERTED OR UPSET SHE FEELS INSIDE,
LONLINESS TAKES TWO-
SHE'S NOT THE ONLY ONE WHO CRIES.

THIS POEM IS FOR A SPECIAL WOMAN, WHO MY VERY WELL HAVE BEEN THE LOVE OF MY LIFE. WE LOST TOUCH YEARS AGO, AND I HAVEN'T FOUND HER SCINCE.