RSEvans
Senior Member
since 10-23-1999
Posts 1187
Tulsa, OK, USA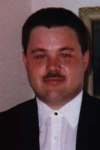 | | |
| --- | --- |
| 0 posted 10-28-1999 02:58 PM | |
---
How fondly I remember
That sweltering Autumn day
It was late Novemeber
On Thanksgiving Day.

The family had gathered round
With covered dishes in hand
Sweet potatoes, pumpkin pie,
Turkey of course and ham.

The smells came from the kitchen
Wafting on the breeze
To where cousin Scott and I were
In mud up to our knees.

How fond life is at twelve years old
When nothing seems to matter
Except how devious you can be
When stealing a large food platter.

Through the crowded house we crept
Not meeting a single eye
Til quietly in the kitchen
Where the Turkey caught our eye.

Up we crept to the table
Quiet as two mice
First we snatched the brazen bird
The beginning of our vice.

Then Scott spotted the pumpkin pie
And up to it he snuck
Removed from the window sill
Like silent lightning struck.

Through the pantry out the door
We made of with our theft
An entire turkey and a pie
Sneakily we crept.

First we heard a big dog bark,
And then an awful shout
Rang out across the early dark
To where we had gone out.

The family rushed and gathered round
With our spoils we were caught
Scott had half a turkey leg in hand
And a stain of pie on his snout.

I had most of a sandwich made
From turkey and pie crust,
The pie insides were of course gone
Cause neatness was a must.

Grandma barked and Mother stared,
Aunt Doris was dismayed,
We had destroyed the turkey
And left mud the entire way.

Then they all began to laugh
As if our crime was funny.
Remembering it now their laughter is
More precious to me than money.


------------------
Once I was brilliant, now I no longer shine, but the twinkle in my eye speaks of another time.