devina
Member Elite
since 10-28-1999
Posts 3426
Too Far North, Cali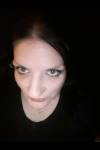 | | |
| --- | --- |
| 0 posted 10-28-1999 12:59 AM | |
---
HOW SWEET YOUR VOICE SEEMS IN THE DARK,
HOW SWEET YOU ARE TO LOVE ME, LOVE.
YET DAYBREAK COMES-
AND WE GO OUR SEPERATE WAYS.
WITH BITTER WORDS-
THE SWEETNESS DRAINS AWAY.

WHY CAN'T YOUR SMILE FOREVER SHINE-
WHEN YOUR EYES GAZE DOWN ON MINE?
ARE YOU TIRING OF MY LOVE?
ARE YOU TIRING OF ME, LOVE?

OF YOUR SWEETNESS, I'LL NEVER TIRE,
YET EMERGING FROM INSIDE,
IS SOMETHING I FEAR-
YOU DON'T WANT ME ANYMORE,
MY LOVE IS NOT ENOUGH,
AND YOURS IS NO MORE.

DON'T PULL AWAY FROM MY GLANCE,
FACE MY EYES TO YOURS,
AND TELL MY LIPS IN TRUTH-
IS FOREVER GROWING OLD-
CAUSING YOU TO BE CRUEL?
OR AM I IN THE WRONG-
IS IT JUST A LOVERS QUARREL?
MY LOVE I NEED YOU ALWAYS,
SO TELL ME-
FOR THEN MY DOUBTS WILL SPILL AWAY.