Colin
Senior Member
since 06-05-99
Posts 612
Callington, Cornwall, England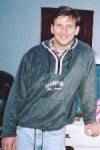 | | |
| --- | --- |
| 0 posted 10-26-1999 05:32 PM | |
---
Walking down the gloomy path,
I hear your anxious cries.
I hold up my old lantern,
And seek you with my eyes.

I hear your weary footsteps,
and rush towards your voice.
My love for you, my darling,
leaves me with no choice.

I find you struggling through the gloom,
see your outstretched hand,
take me as your guiding light,
in this barren land.

Let me be your guardian,
on this foggy path,
cast aside your sorrow,
lay down all your wrath.

If your feet get too tired,
or you lose your cheer,
lean upon my shoulder,
and whisper in my ear.

Take my hand, my sweetheart,
on this starless night,
for soon we'll be together,
in the bright sunlight.

So walk with me, my Angel,
out of this cold night,
and stay with me forever,
to the sunset of our life.

------------------
I believe in fairy tales but then I'm just a silly romantic, what do I know?