RSEvans
Senior Member
since 10-23-1999
Posts 1187
Tulsa, OK, USA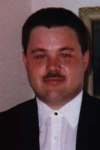 | | |
| --- | --- |
| 0 posted 10-26-1999 01:18 PM | |
---
The day's light fades to duller tones.
The moonlight sweeps and claims its own.
And I watch as the yellows and reds of day
Very slowly fade away
To be replaced by blues and grays
And darkned colors move and sway
Across the land and through my soul
And daylight's twin takes its toll.

Why do we fear the death of day
And not relish in the blues and grays?
Why does the darkness cause us fear
And cause us to draw defenses near?
Why do the things that worship night
Give us cause to fear and fright?
What is the presence that we fear
Whenever twilight's walk is near?

I feel as though there's something missed
Like a lover's lips yet unkissed
In the mystery that is the night;
That thing that keeps us holding tight
To all we know by daylight's grace
And all we see by sunbeams' trace.
It all exists at night you see,
Though colorless, it still must be.

I see beauty in the dulled hues of night
And I face it now with such delight.
The moonlight's beams, they beckon me
And light my way to some degree
Into a different reality
As I slowly drift to sleep.


------------------
No matter where you go, somebody's probably already been there and gotten the parking space...