RSEvans
Senior Member
since 10-23-1999
Posts 1187
Tulsa, OK, USA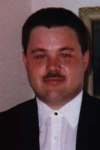 | | |
| --- | --- |
| 0 posted 10-23-1999 07:39 PM | |
---
While sifting through the pages
Of an old forgotten book
And remeniscing ages
Of the journey we both took,
I came across the petals
Of a silky worn-out rose
Whose color had faded
And whose skin was full of holes.
I sat and stared in silence,
My smile the only sound,
And remembered with all fondness
When we plucked it from the ground.
And even though your gone now
Like the scent that left this bud
and your memory somehow fainter
Like this small flowers' blood.
Both of you are special.
To me there is no shame
In the flower that we plucked that day
The day you took from me my name.
I'll remember you with fondness.
I'll walk my final days,
'Til once again I caress
Your soft and silky face.
And when we meet I'll think of this
And tell you of my prose
And give to you a living loving
Shiny brand new rose.


------------------
On the wings of day-bright dreams...