Seymour Tabin
Member Empyrean
since 07-07-99
Posts 32119
Tamarac Fla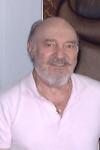 | | |
| --- | --- |
| 0 posted 10-17-1999 10:27 PM | |
---
Shadows (rewrite)

I watched my shadow stretch the ground
Awake with me without a sound.
In motions that are just like mime.
And mirror me like pantomime

It seemed to move like puppetry,
In lesser light and mimicry.
Fathered by the sun, a clone
Mothered by an objects loan.

No feel of pain, pleasure or strife
Reborn each light to a new life.
Without our blood, tissue or bone.
Brought into this world full grown.

Made of shifting mediums sprawl
Transparent and in constant fall
Chameleon like abilities
With hide and seek alacrity.

An ever dark and brooding base
Light induced, but never a face.