Temptress
Moderator
Member Rara Avis
since 06-15-99
Posts 7276
Mobile, AL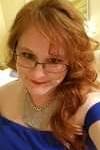 | | |
| --- | --- |
| 0 posted 10-15-1999 12:40 AM | |
---
As I write,
Feel the power of my tone,
Like threatening thunder making battle march.
Distance breaks with each footfall,
As wind of thought,
Readies a lightning rod,
Of punishing demeanor.
Every word escapes from fingers,
Every word tasted first by my own lips.
The morsels and drops devoured after.
To complete the feast of feeling and enraptured passions.
Though full of speech.
These battle lines are cleary marked,
On page after page of sing songed
And dreary thoughts.
Until the enemy force of depression ceases.
Retreating quietly back to the Darkness
Of the hills and valleys of Anger's kingdom.
Go forth and collect the footsteps left there,
And dare to follow in the mighty path
Of the battlefields of Joy and peace.
Be strong against the foe and rise
To a level of knighthood in kingdom of Happiness.
Prepare journeys for the world,
In a steaming dish of thought and words.
Then hold a great dinner in the hall of Love.
Eat of the fruits of experiences.
Drink of the wine of passion.
Be merry in thoughts and lessons learned.
Life is short, but full of intrigue.
Revel in it as you would in making love.
Experience it to the fullest possibilitie.