Blondie
Member
since 08-06-99
Posts 307
Ohio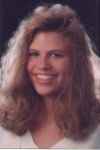 | | |
| --- | --- |
| 0 posted 10-14-1999 05:41 PM | |
---
There's been a battle in my front room.
The shovel fought against the broom.
You should have heard my old arm chair.
It said, 'Go on Lads, I don't care.'
A picture of Lord Kitchener upon the wall,
'Let out a hearty rallying call,'
Your country needs you, That's the stuff.
The Aspidistra said, 'She'd had enough.'
The Sofa cried with piercing shriek.
'You are making my old springs squeak.
It's bad enough to watch you fight,
I'm sure to have a very rough night.'
The light shade called, 'That's enough from you,
You need re-stuffing you silly old Moo.'
The Tele in the corner has the hump,
It has got four legs and cannot jump.
It in turn had a go at the books upon the shelves.
But they held knowledge and could defend themselves.
Even the Carpet on the floor was mad,
Its colour's were the same as the Wallpaper had.
But the curtains had the best time of all,
They kept telling the windows they were having a ball.
The Clock upon the mantel-piece,
Said 'It's time I think to call the Police.'
But what do you know as I entered the room,
All was quiet as shovel kissed broom.