azblond
Senior Member
since 07-01-99
Posts 651
The Steamy Desert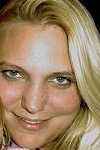 | | |
| --- | --- |
| 0 posted 10-09-1999 12:46 AM | |
---


Did we ever kiss?
In the merging moments we shared
We came together
Two souls, two hearts
Sharing moments in time.
We touched each other in the intimate ways that lovers do,
Yet we never called it love.
We caressed to quench the need
The burning of two bodies
Hungry for the warmth from one another
Our tongues danced in passion.
But did we ever kiss?
The soft tender sharing
The moist sweet breath
That whispers words the mind cannot form
I feel now in this moment
This one meeting of two
When we are not joining out of physical need
When we cling to each other in the moonlight
Holding tightly afraid to let go
Needing more than skin against skin
Breathing quickly, feverishly
And my lips rise to meet yours
Sweet breath, moist and tender
Caressing my lips as yours dance
A song as gentle as the starlight
This moment we have finally shared
A kiss.


------------------
Let my words fall first upon deaf ears before a closed mind...