Blondie
Member
since 08-06-99
Posts 307
Ohio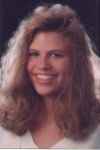 | | |
| --- | --- |
| 0 posted 10-07-1999 02:48 PM | |
---
*here we go Toe...haven't heard of any directed toward little ole' me...haha...Blondie lives on!



Toerag was a really great catch
If he remembered to bring his black match
See Toe could light his nasty fart
Which could heat up a whole darn pop tart.

This was something that the ladies adored
He could keep you occupied, never bored
If your tired of the same old date
Take Toe, no lady will ever debate.

He can stick a spoon on his nose
He can run stark naked through a hose
He can touch his eye with his thumb
No! These things never seem dumb!

He'll dance all over your tender toes
He might even shower---who knows!
He'll play a song under his pits
He can eat a whole box of chedder Ritz.

He'll take you to visit his great uncle smite
Who can also fart and then the match will light,
And with that you'll have a nice bon fire
He might even take you a rollin' in his tire.

Oh, yeseree, good ole' Toerag is a catch
(Maybe his addiction will stop with the Nicotene patch)
But ladies, sorry, he's not able to dine
Because this hottie man will always be MINE.