Tara Simms
Senior Member
since 08-12-99
Posts 1285
Honea Path, SC USA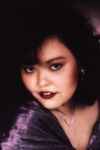 ---

Fortress

Cold, heartless, uncaring.
That's what you'd have me believe.
But when I look at you, that is not what I see.

I see…
Someone who cares but doesn't know how to show it.
Someone who loves but is afraid of being hurt.

I watch your tears fall as you tell me you don't feel.
If you didn't feel, you wouldn't cry.
My heart breaks for you.

I see your soul screaming to be heard.
I want to hug you but I know you won't let me.
Not until I break down your walls.

I vow to break in, break through
To the fortress you call your heart.
The wall cannot save you now.

I want to help you find your greatness.
I want to show you the You that I know.