Seymour Tabin
Member Empyrean
since 07-07-99
Posts 32119
Tamarac Fla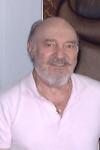 | | |
| --- | --- |
| 0 posted 08-26-99 08:48 AM | |
---
Ageless Flight

My ghosted albatross skies air,
Setting a course of who knows where.
Away this world and in full gale,
Away beyond the abyss it sail.

Mutely seeking illusion's den,
Searching o'er the forbidden glen,
Looking, longing, the slightest gleam,
Craving the fragile of my dream.

While stars stay a forever night,
Horizons seem to ever light.
I sail the currents of the day,
As sensuous as a ballet.

I dance to a passions coup,
Of finite light and skies of blue.
To countless views that toll my dreams
By heavens winds and all it's means.

The albatross crests tempest ground.
While I lay trussed impotent bound.