Michael
Moderator
Member Ascendant
since 08-13-99
Posts 6333
California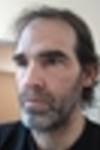 | | |
| --- | --- |
| 0 posted 08-26-99 04:10 AM | |
---
BLACK AND WHITE

Draining the color out of black and white
I watch life slip to shades of gray.
Those clearly drawn lines of wrong and right
Growing more obscure everyday.

I walk in the shadows of truth,
Taking my stand on misguided belief.
Weaned off the tears of innocent youth,
And polished in my own grief.

I look to the sky and want to cry,
"God, what's happened to our ideals?"
But wasted tears don't replace the years
When the heart, itself, forgets it feels.

I used to watch the news at night,
Horrified at just what I might see.
Rampant crime in the spotlight,
Glorified in other's misery.

But, now, hardly noticing at all
When someone's raped, or shot, or dies,
I stare at the screen like a blank wall,
Mute button pressed to silence the cries.

Somewhat entranced, somewhat paralyzed,
Somewhat preternaturally numb.
Per chance, in glance, I've realized
The monster I've passively become.

No laurels, no morals, no reason to fight
For what once seemed so cut and dry.
Draining the color out of black and white,
I face tomorrow with a sigh.