Seymour Tabin
Member Empyrean
since 07-07-99
Posts 32119
Tamarac Fla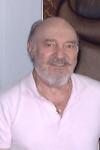 | | |
| --- | --- |
| 0 posted 08-25-99 11:15 PM | |
---
A brother

Some shadows fluttered near a sprig.
A black winged raven flew.
He landed on an lower twig,
There, caught my eye anew.

Three claws bit hard the swaying limb,
Three claws of one leg, tight.
The other leg was half and grim,
A piece of small bone, white.

Red orbs' of fire gaped in hate
And glared upon my bane.
A one leg frame, a one leg state,
A leg and wooden cane.

Our eyes met in a lock of pain,
It mesmerized our stay.
We stared in strain and in disdain,
But nothing could we say.

No weep of mourn; no word was sworn.
Just silent stares were born.