Blondie
Member
since 08-06-99
Posts 307
Ohio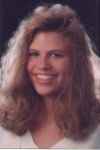 ---
Work
By: melissa rose forinash

I glance down over at my alarm clock as the music screams
It always seems to go off right in the middle of my favorite dreams.
I roll out of bed stretching my arms and put on my work clothes
I fix my hair with the brush and slip my socks on over my cold toes.

I get on the road with the maniac drivers all trying frantically to get to work
I look into the cars seeing the plumber, the lawyer, and the bank clerk.
I reach my work and pull into a safe parking spot, clocking in just in time
I think working an eight hour, full work day should be an unlawful crime.

I'm greeted by my fellow employees, all half asleep not ready for today
As we sit at our desks, piled high with work, we hope it will be a good day.
You finish a pile and glance at your ticking watch, only 7 more hours to go
Sometimes you just wish you would be abducted by a hot guy in a U.F.O.

Oh please time fly a little faster! My stomach is growling and papers are piling.
You take the six or seven stacks on your desk and start your daily filing.
You smell nailpolish remover, and glance to the girl in the mini skirt
Oh! Sometimes she gets you so mad and makes you almost disconcert.

You glance at your Mickey watch now, the hands point to three.
Time just go faster today! Move to five o'clock now this I plea.
You finish your filing, your coping, your calling, and your typing
Now by this time the whole office is grumbling and griping.

Finally when you think your going to die of boredom , the clock hits five
Now not only are you glad it's time to go but you're glad your even alive.
You've finished a day of work but tomorrow there is always more
You grab your car keys, head hung low, and head out the door.