suthern



Member Seraphic
since 07-29-99
Posts 20770
on the threshold of a dream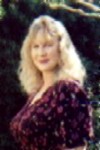 | | |
| --- | --- |
| 0 posted 08-24-99 09:16 AM | |
---
The scent of gardenias
On a hot summer's night
Makes me deeply inhale,
Gives my senses delight.
I'm tempted to pick
A giant bouquet
To breathe as I sleep,
To greet the new day.
But the cloying sweetness
Can be hard to bear
In a windowless bedroom.
So I leave the blooms there.

The taste of dark chocolates
Is something I crave.
For Godiva's creations
My money I save.
The treat to my tongue,
The rich creaminess
Has at times in my life
Defined happiness.
But chocolate is fattening,
I'm already large.
So I must resist
Though often, it's hard!

I have a fondness
For Foster's fine brew.
If it's not available,
Chivas will do.
They help me relax
And ensure my sleep,
But overindulgence
Means next day, I weep!
Or I waste the night
On the bathroom floor
At the porcelain altar
Stomach empty, once more.

The feel of soft silk
Caressing my skin
Is silent seduction -
As it's always been.
Many times I have worn
A favorite shirt
To give myself comfort
As I nursed some hurt.
But silk is expensive
And must be dry-cleaned
So most days I settle
For t-shirt and jeans.

I think sometimes I nibble
When life is a feast,
But I never hold back
On one thing, at least.
There's no moderation
In my loving you.
Caution is something
I simply refuse.
All that I have and am
Is what I give -
Now and forever,
As long as I live.